Teaching experience
Zsófia Kiss has been teaching at the Erste Private Musikschule Hietzing since 2012; furthermore, she is also giving private lessons. The harp is the most beautiful and most interesting instrument that has been ever invented. Its origins go back to the caveman; therefore, we can say that it is the most ancient instrument. At the beginning, a curved wooden piece was used to tighten the strings. Afterwards, the rudimentary harps were developed further due to the technical developments.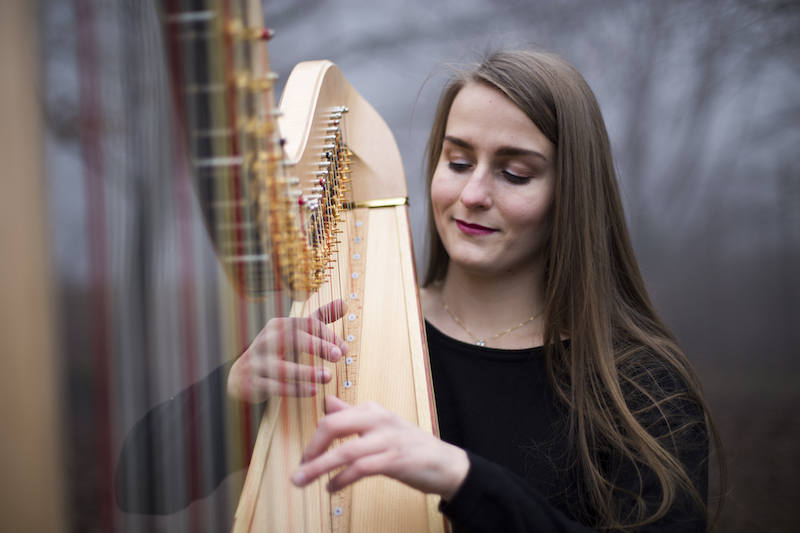 The lever harp
A "simple" version of the harp that is used nowadays as well is called lever-harp. It is a diatonic-tuned instrument. Usually, it has 24-38 strings. Initially, it was used in one tone, for example C major, but later, other tunes became available as well – even during playing the harp – due to its hooks. Its tuning was uncommon: the tones were available from E-flat major until E major with the levers.


Folk-harp
Folk-harp: usually occurs in the Austrian folk music that is popular nowadays as well. It is bigger than the hooked-harp. The basic difference between the two instruments is that the folk-harp has pedals instead of hooks. The seven pedals, similarly to the hooks, can be settled once that rises the strings with a half note – it was the reason why the instrument got its other name, simple pedal-harp. It's basic tune, E-flat major, is the same as the hooked-harp's basic tune.